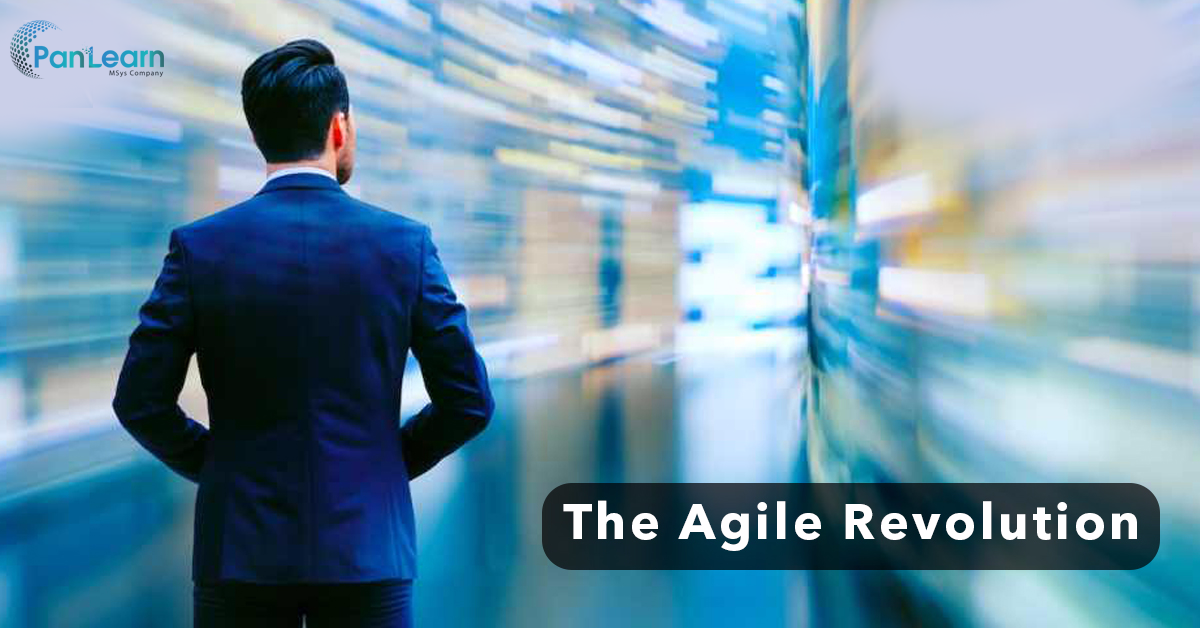 Posted By

Sara Patoff

Categories

Agile and Scrum

Last Updated on

Jun 30, 2021
The advent of agile represented a revolution. A departure from the do-this-then-that process dictated by waterfall, agile approaches unshackled team members' innate creativity and self-organization. Yet those very concepts also instigated a misconception that agile means anarchy, which contributes to a lingering skepticism of the approach.
Among the top concerns about agile adoption cited in a VersionOne survey are lack of up-front planning (34 percent of respondents), loss of management control (31 percent), lack of predictability (24 percent) and lack of engineering discipline (20 percent).
The reality is that project managers—as they do on any project—just have to figure out when to crack the whip and when to loosen the reins.
"Agile doesn't mean total freedom; it means self-organization through some constraints. As a manager, you will define the constraints that will guide the team. "When a garden is not being managed, it will keep growing, but in another direction than what was intended. We, as project managers, need to be gardeners and grow our teams as intended."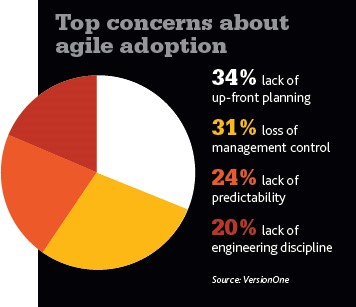 Agile is heavily rooted in each individual's self-motivation and direction, a fundamental characteristic of the approach that project managers must keep in mind throughout the project.
Traditional project managers generally focus on the schedule, deliverables and team members, in that order, says Dave Prior, PMI-ACP, PMP, an Oklahoma City, Oklahoma, USA-based agile consultant at IT firm BigVisible Solutions. Project managers using agile approaches, on the other hand, should make the team top priority, followed by the client and the deliverable. Putting the team first and finding the right people for the right project lets project managers avoid many quality and discipline issues from the start.
"Team members who are not disciplined about their approach to work are going to run into trouble regardless of what framework or methodology they employ," he says. "Agile is predicated on the idea that a group of highly engaged, deeply motivated people can do amazing things if they have the right information and support."
When that empowerment is combined with high levels of personal responsibility and self-governance, discipline naturally follows.
Sprint Fast—and Forward
No matter how self-motivated the team, the project leader still has to put in place tools to maintain discipline—without crushing the individualism of the members.
It is recommended the teams start and stop each sprint strictly according to schedule, keeping the overall project on the proper timeline. Also using sprint and backlog burn-downs to track progress against deadlines. But the biggest tool in the agile team's box, he says, is effective sprints.
"One of the fears that project managers have is whether or not an overall deadline can be met using an agile model. "The fact of the matter is, if implemented correctly, agile process gives us a usable output, sprint after sprint. So more often than not, indication of progress related to project completion is very prominent."
Meeting the "when" is moot if the "what" isn't on target. After all, the skepticism about agile stems in part from worries about outcomes.
Guaranteeing that project outcomes meet their intents may mean moving away from the silo approach and instead employing quality assurance from traditional methodologies. Agile teams should consider integrating quality assurance people into the team from the start.
It's not simply more testing that addresses quality issues on agile projects—it's better testing, involving the entire team.
"Agile doesn't mean total freedom; it means self-organization through some constraints. As a manager, you will define the constraints that will guide the team."
Finding Red Flags
Agile's iterative nature means mistakes are often found and corrected earlier than with traditional models. However, that's only true if the project manager keeps a close watch on each sprint and its outcomes, ensuring that the team continuously learns, adapts and improves. Here are three ways to detect early signs that an agile project might be deviating from its ultimate goals.
1) LISTEN TO THE STAKEHOLDER:
The surest sign of a project going awry is a dissatisfied stakeholder. FortunateLy, agiLe Lets stakehoLders track the project's progress along the way—and give the team valuable notes. "The team should be delivering every iteration and meeting with the stakeholders, who will review its accepted work and provide feedback," says Dave Prior, PMI-ACP, PMP, BigVisible Solutions, Oklahoma City, Oklahoma, USA. "This will help demonstrate if the team is moving in a positive direction towards meeting the stakeholder deliverables."
2) IDENTIFY ROOT CAUSES OF PROBLEMS:
Every project will have its hiccups; that doesn't mean every project is on the brink of doom. But if issues keep coming back to one cause—say, a laggard team member—bigger problems may loom. "If a particular component took more time than what was estimated, the leader needs to understand whether it was due to a motivation issue on the part of the team member or because of wrong estimation," says Shashibushan Venkatasubbaiah, PMP, Altisource, Bengaluru, India. "If it turns out to be a motivation issue, then counseling the team member is the way to go forward." If that fails, it may be time to send the problem person packing.
3) ENSURE USER STORIES ARE SAYING ENOUGH:
The quality of a sprint is only as good as the user stories that drive it. "Often, user stories are not well-prepared for sprint planning and are too ambiguous, which causes iterations and discussions during a sprint," says Thomas Zimmermann, PMI-ACP, PMP, NTT DATA Deutschland GmbH, Munich, Germany. "A Definition of Ready [i.e., the set of criteria] that describes the attributes and elements of a good user story is essential to make sure it can be understood by developers and worked on."
"Agile is predicated on the idea that a group of highly engaged, deeply motivated people can do amazing things if they have the right information and support."