The Nuances of Strategies as a Digital Marketer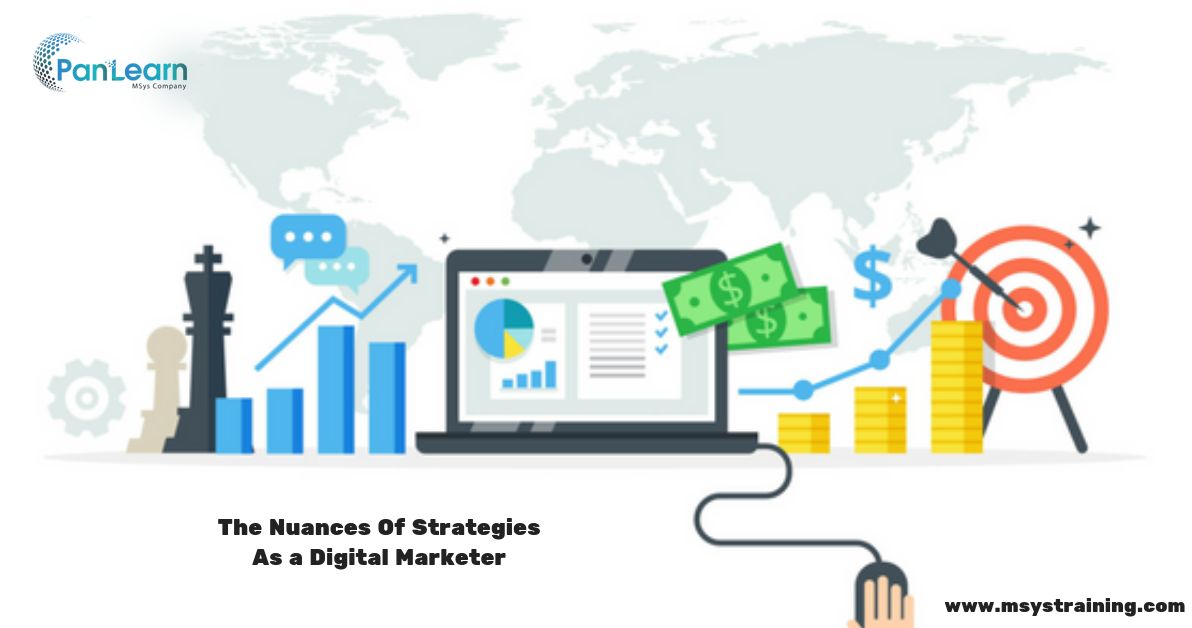 Digital Marketing Strategies are made to satisfy business objectives or goals. These can be viewed as bigger dreams as they require profound thought towards the objectives. While formulating a digital marketing strategy that best works for you and your organization make sure that the strategies are always tied to the goals. There are varieties of digital marketing strategy for exploration but as a digital marketer, you should be aware of differences among various strategies, which will help you to achieve your business goals, for example, get more visitors reaching your website, stimulating the traffic towards the website, increase sales and revenue etc.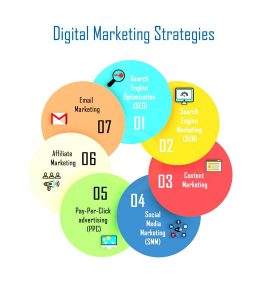 Email Marketing Strategies:
Segmented Email Marketing is a useful strategy to generate awareness about your product and services and an important path to get more specific people/audience visiting your website. Few points to consider here is to make sure not to send spam emails. You can share an e-mail newsletter or If you want to get more subscribers to your email newsletter, can use subscription forms.
You can extend your reach by sending exciting offers to your website visitors and to the customers who have given you the authorization to contact them.
Search Engine Strategies:
Search Engine Strategy is the most important and less expensive strategy, to rank high on the main search engines for your preferred keywords, in organic searches.
SEO includes different approaches like- On-Page and Off-Page:
On Page for every individual page:
                Title
                description
                URL
                heading tags- h1, h2
                image optimization
                anchor tag optimization
                Mobile optimized
                page load
                sitemap
                Terms and conditions
Off Page ongoing activity includes:
Competitor (your actual business competitor, search ranking competitor, global competitor) Backlinks analysis
                Forums (Quora, Reddit etc.)
                Classified sites
                Press release
                Article submission
                Guest blogging
Blog content strategy:
Write content on what your target customers might be researching about your product or service. Link them to your product or service page through anchors.
E.g.: someone searching for a digital marketing course, would also be interested in reading. Identify low hanging (less competitive) keyword variations from keyword planner
                The scope of digital marketing
                Future of digital marketing
                average salaries in digital marketing
                growth in digital marketing
                skills needed in digital marketing
                how to get started with digital marketing
                how to get certified in Google AdWords
                what are the certifications in digital marketing?
                what is the validity of digital marketing certifications?
Linking Strategies:
External Linking by providing your site's link on other sites which drives additional traffic. Google and other major search engines consider link popularity (of your website) as an important sign of relevance. More links visited will help you rank higher in the search engines. For identifying quantity and quality of incoming links, Google uses a measure called PageRank. Links from trusted, high visited sites will help your site rank higher than links from the low trafficked sites.
Social Media Strategies:
Leverage on organic and paid social media marketing for promoting websites. Social media can help to rank your site by sending direct traffic, producing more links to your site and generating awareness. It can be used as a means in which people are interacting with each other and responding to posted blogs and commenting on it. It includes different ways of promoting your content like Blogs,
Social networking sites, Social bookmarking sites, Forums etc. A brief how you can strategize these types are as below:
Become a part of a social media community or engage in relevant groups.
Promote your site on online forums and discussion lists.
Asking visitors to bookmark your site by providing various options.
Paid Advertising Strategies:
All the above-discussed strategies need time and devotion and formal engagements with your target customers over a period of time building gradual relationships. But if you want to grow your business more rapidly, you can pay to increase traffic to your website. Paid advertising can be done in following Ways-Traditional CPM (Cost per thousand views), Pay per click (PPC), Pay per action (PPA) /Cost per action (CPA)
Conclusion:
These are many an effective way you can choose suiting your business objectives, though you need to spend more time understanding and adapting this Digital Marketing strategy appropriately which can further be beneficial for your company. Focus on what is suitable and best for your business. Do relevant marketing. Make your presence online and update on every social media of your business profile. Keep yourself update accordingly for google algorithm.