Challenges in ITSM Adoption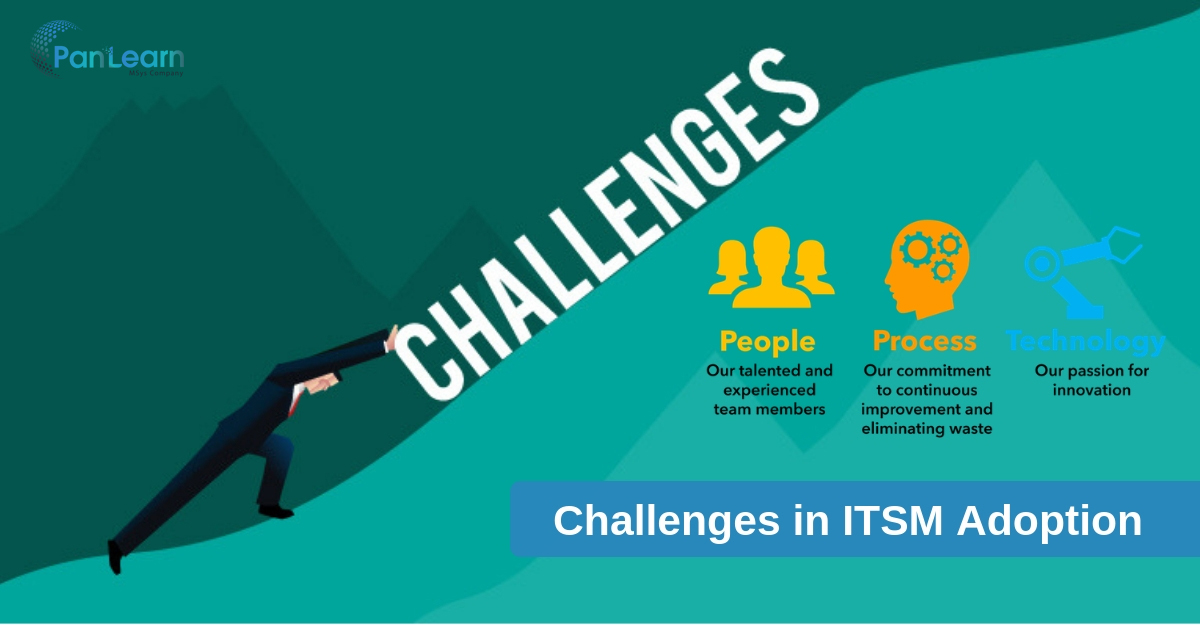 While adopting ITSM, you may come across several difficult challenges, few of them are well documented, whereas others are linked to the specific firms. While working on process and technology projects, the major challenge that stood out is Focus. What is focus in the project? Focus can be referred as the detailed knowledge of your business stakeholders' requirements. The configuration Management process with a Configuration Management Database (CMDB) is the most suitable example here. Complexity aside, the implementation of a CMDB can be highly expensive and the chances of gaining some or no value from this implementation is high. Therefore, in-depth knowledge of the information required to be stored in the database is the key to success of the project.
One of the biggest challenges in ITSM implementation processes is resistance to change. ITSM and ITIL experts identify common challenges related to ITSM that can be summarized in the ITSM core concept of Technology, People and Process as follows:
Challenges with Technology
Poor systems interoperability
Challenges in integrating systems
Reduction in IT efficiency caused by lack of automation
Lack of efficient ITSM reporting
Lack of a guidance for adaptation
A full blown ITIL implementation is too costly
Challenges with People
Lack of customer feedback to employees working on a project
Minimum channel for employees to give suggestions or feedback
Inter-departmental barriers delaying communication at work
Perception about ITIL that it is too generic and theoretical
Resistance to accept new procedures and policies
Challenges with Process
Incomplete implementation of process or No RACI (Responsible, Accountable, Contribution, Informed)
No standardized processes and fragile enforcement of policies
No follow-up monitoring, for instance, after Changes and Projects continue using same old habits
Lack of documented procedures to manage Service Improvement
Undefined Key Process Metrics
Lack of Critical Success Factors and Key Performance Indicators
ITIL certification helps to overcome all the challenges. The certification is divided into 5 level as ITIL Foundation, ITIL Practitioner, ITIL Intermediate, ITIL Expert and ITIL Master.