ITIL Interview Questions and Answers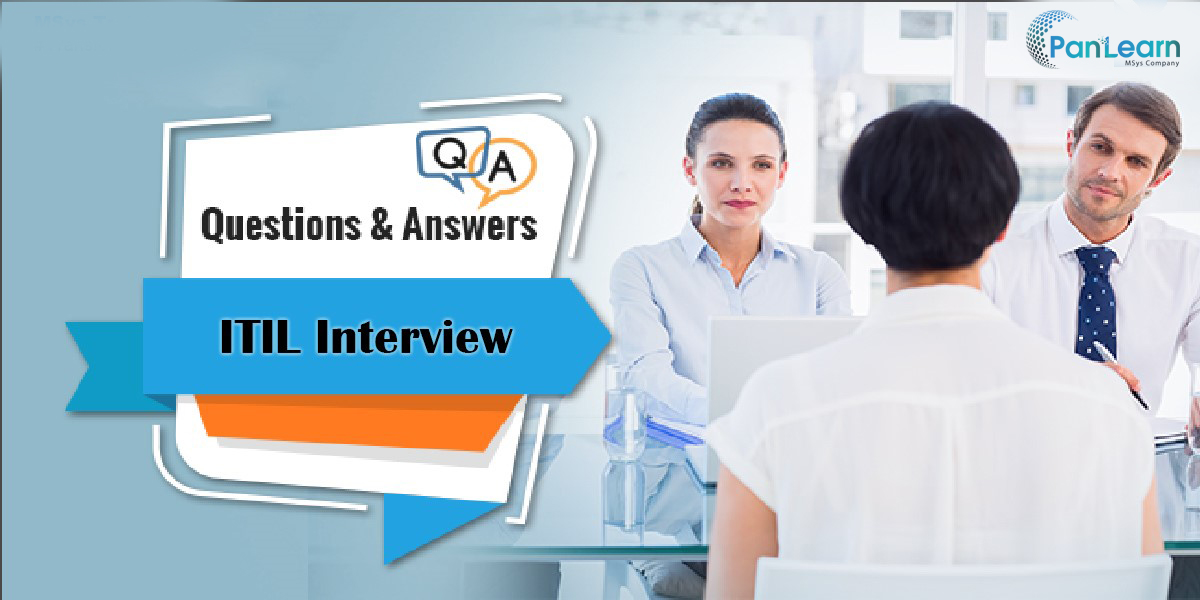 If you're applying for an Information Technology Infrastructure Library (ITIL) position, you want to not only expect definite questions during the interview but also to know the best-suited answers to them. That's why we present to you the following assembly of the most common interview ITIL position questions, as well as the suitable replies. We're not saying that an interviewer will ask all of these questions, or that they won't ask questions that are not comprised here, but the below is a respectable sampling of the most collective queries.
Q: Let's start off very simple. Explain what ITIL is?
A: ITIL is a set of essential volumes that detail a framework of best practices for IT service management, with the importance of aligning IT services with the wants of any given business. It's a systematic method of high-quality IT service delivery, providing a common language that includes clear, exact terms.
Suggested Read: ITIL change management process implementation
Q: What's the difference between ITIL v2 & ITIL v3?
A: The v2 library is prepared into a series of seven core books, whereas v3 contains five. In addition, ITIL v3 does a better job of obviously defining responsibilities and roles for each process.
Q: What is the ITIL service lifecycle model?
A: The processes are:
Service Strategy
Service Design
Service Transition
Service Operation
Continual Service Improvement
Q: What's the difference between a change request and a service application?
A: A change request is a recognized proposal to alter a particular product or system, while a service request is properly submitted by a user, and is a request for IT service access, the altering of a standard, or information or advice. Service requests include things like access to the cloud or demanding a new laptop or printer. As a rule, service requests deal with things that have previously been approved of by company policy and don't need any extra permission.
Also Read: ITIL pathway for the best IT solutions
Q: What are the benefits of ITIL?
A: The benefits of ITIL implementation are:
Builds a tougher alignment between IT and the business.
Enhanced customer satisfaction and a higher quality of delivery of services.
Reduced costs by implementing developed utilization of resources.
The greater perceptibility of the business' IT costs and assets.
Better management of business risk and service disturbance.
Providing a more steady service environment, better equipped to support constant business change.
Q: What is an SLA?
A: An SLA is a service level arrangement, a contract between an external or internal service provider, and the end-user. The SLA defines the level of service predictable from the service provider.
Q: There are three stages of SLA. Name them.
A: The three levels are:
Customer service level agreement: Exists between the service provider and an outside customer.
Internal service level agreement: An agreement between IT and an internal customer (such as an alternative site or department).
Vendor service level agreement: An agreement between you and the merchant.
Q: What is the PDSA Cycle, and what are the stages?
A: The PDSA stands for Plan-Do-Check-Act, and is a methodical series of steps for gaining valuable learning and knowledge for the repeated improvement of a product or process. It is also known as the Deming Wheel, or Deming Cycle. The stage breakdown consists of:
Plan: Identify and analyze the problem
Do: Develop and test a resolution to the problem
Check: Measure how actual the developed solution handles the problem, analyze probable ways the solution could be enhanced
Act: Full implementation of the achieved solution
Q: What are the three ITIL models accepted by an organization?
A: The models are:
Microsoft MOF (Microsoft Operations Framework)
Hewlett-Packard (HP ITSM Reference Model)
IBM ( IT Process Model )
Q: What's the difference between a process & a project?
A: A project has a determinate lifespan (hopefully!). A process is continuous and has no deadline.
Read: Why ITIL is so popular
Q: What's the difference between an event, a problem, and a known error?
A: An incident is an event that's not part of the standard operation. A problem is an as yet unknown cause of a conflict or series of incidents, whereas a known error is problematic that's been successfully diagnosed, and a workaround or stable alternative has been created. The last result of a known mistake is an RFC (Request for a change).
Q: What's the difference between an end-user and a consumer?
A: An end-user (or end customer) is the straight recipient of the service, or uses the product. A customer may or may not be able to select between different products or suppliers. An example of the latter would be things like court-appointed attorneys, or a monopoly condition such as an Internet or cable provider.
Q: What is the Incident Management Process? Can you provide examples?
A: IcM, or Incident Management, is an area of IT Service Management (ITSM) that survives in order to restore normal service operations as soon as likely. Examples of this include a printer that doesn't work, disk usage exceeded, or a complete system that has gone down.
Q: What is change management? Explain the seven Rs of change management.
A: Change management is the procedure, tools, and techniques used to accomplish the people's side of any change that is implemented in order to achieve the compulsory business outcome. Change management helps individuals adopt and adapt to the deviations.
The seven R's are:
Who RAISED the change?
What is the REASON for the change?
What RETURN will the change deliver?
What RISKS are there is we do or do not convey out the change?
What RESOURCES will be required to achieve this change?
Who is RESPONSIBLE for this change being performed?
What RELATIONSHIPS are there between this and the last changes?