Continuous improvement at the project level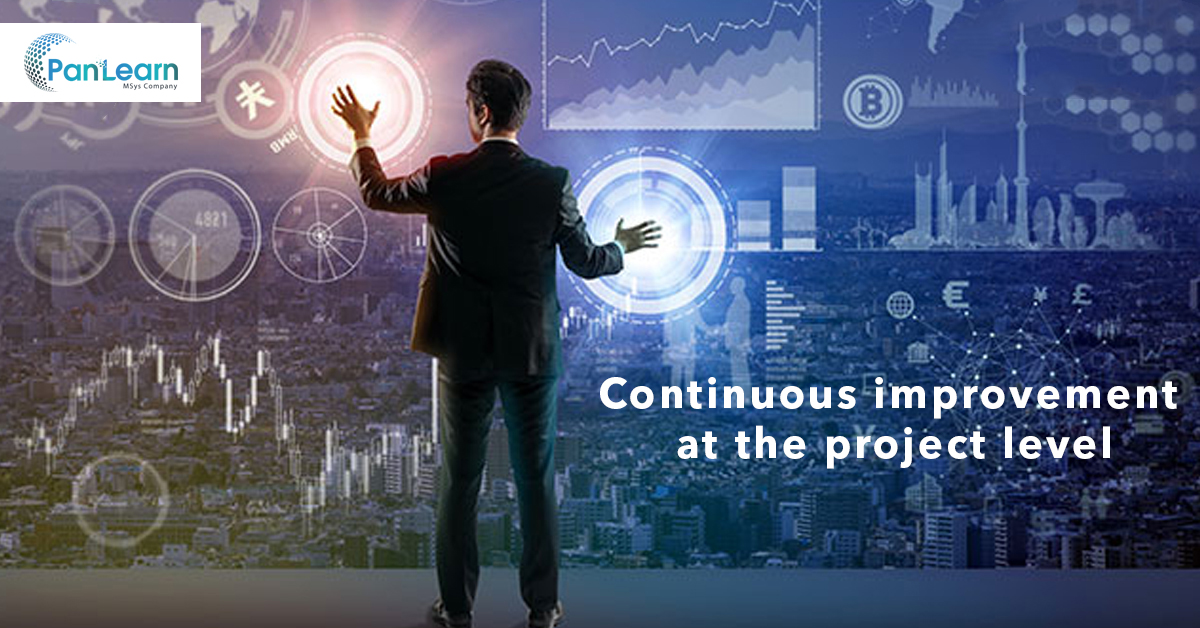 Posted By

Sara Patoff

Categories

Agile and Scrum

Last Updated on

Jun 23, 2021
The biggest of the success factors is learning and adapting from experience (continuous improvement). Failure to learn from an experience should be considered a worse failure than a failed project. Continuous improvement happens not only at the project or organization level, but should be an integral part of every developer's growth.
Milestone and component postmortems provide valuable input into project and individual process changes. The data gathered are used at the project level to identify project process efficiency and quality improvements or to solidify and create new processes. At the individual level, with assistance from a coach, data are used to help identify current capability and improvement opportunities and to set improvement goals.
In the IT industry, it is common to budget a minimum of 20% of development costs for yearly operations and maintenance (O&M) of the system. Of the budgeted O&M cost, industry data show that over 80% of the costs are expended toward fixing known defects. The majority of these defects translate into IT system downtime, costing US $26.5 billion (2010 data) (Harris, 2011) in lost revenue. Quality is a major issue in the IT industry.
This article focuses on a multiyear IT project that delivered more than 680,000 source lines of code into production two weeks ahead of schedule, with very high quality. Since production release in 2011, the system has had zero downtime to date (over 46 months). A total of 99.8% of resolved incidents had zero post-delivery issues (first time right). Disciplined development and proactive and preventive maintenance has helped keep yearly O&M costs to ~4.2% of system development costs.
Also Read: Change Agility- a competitive advantage for your organization
Project Results: Optimizing project process for the highest quality with the lowest effort.
The project team adopted, adapted, and innovated on existing organization processes for this mission critical project. Executing the above-mentioned project success factors with discipline, the team delivered the project (680,000 source lines of code) ahead of schedule with high quality, resulting in an annual cost avoidance of $2.5 million.
With detailed planning and tracking, the project plan's earned value deviation ranged from -3.8 to +1.8 during the 157 weeks of the development phase. Exhibit 4 shows the planned versus actual earned value and the earned value deviation for the project.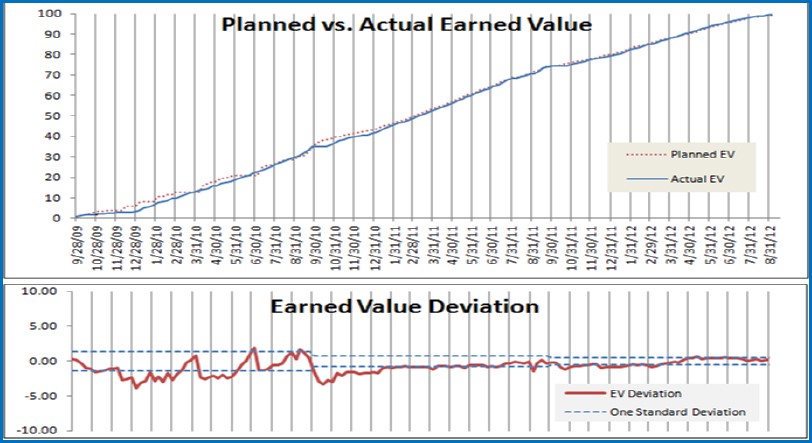 Exhibit 4. Project earned value chart.
Precise and accurate data tracking provided the ability to detect a one-day slip in schedule. This detailed insight helped the team deliver initial operational capability (IOC) two weeks ahead of schedule and the full operational capability (FOC) four weeks (2.5%) ahead of schedule, against the industry average of 27% behind. During the entire development phase, 90% of the milestones were delivered on or ahead of schedule. Optimized development processes allowed for 83.2% of effort to be expended toward product engineering tasks.
With quality process steps and continuous improvement activities, the product was delivered with defect density of 0.97 defects per 10,000 source lines of code. A total of 92.3% of components developed by the team had zero defects after unit test. This high quality was achieved with 34.9% cost of quality (effort in appraisal, failure and prevention tasks), against an industry average of >50%. Since production release in September 2011, the system has had zero downtime as a result of software defects.
In the operations and maintenance (O&M) phase, over 89% of O&M spend is expended toward system feature enhancements. Exhibit 5 shows the build quality of the maintenance releases. Of the 385 incidents resolved to date, a defect was identified in one incident resolution.
Also Read: Drivers of performance in change agility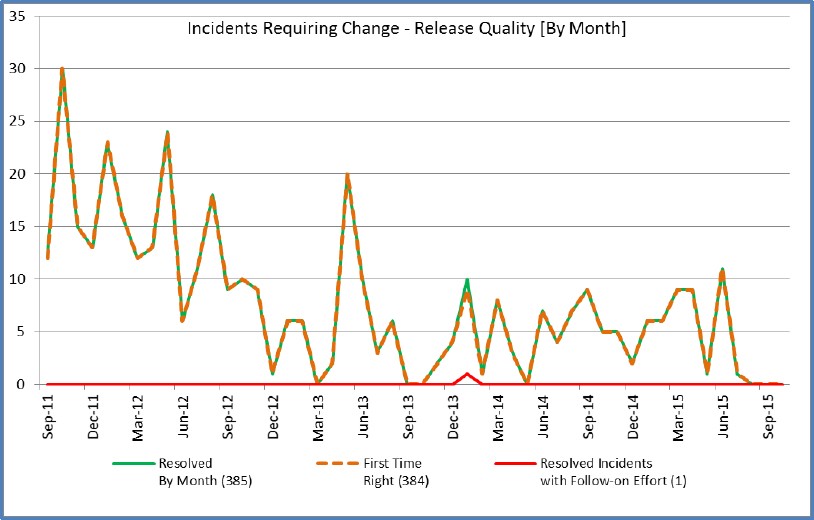 Exhibit 5. Project build quality.
 The success factors listed above are proven best practices that are successful in various industries. The team's success is directly attributable to team members' skills and disciplined execution of the success factors. Most organizations have well-defined processes in place. Processes executed with discipline produce predictable results. Unfortunately, the disciplined execution of processes is the first thing to be sacrificed when projects face schedule or budget challenges. In the 2013 CHAOS Manifesto, the Standish Group reported that 61% of IT projects were not successful. Quality issues cost US $26.5 billion in lost revenue. For your project to be successful, incorporate these success factors and execute with discipline!
"Success is understanding and adapting from  experiences. Excellence is making success repeatable."
You can attend our Online Certified Associate Project Management Training facilitated by our trainers who have more than 15+ yrs. of training and industry experience.
Pan Learn is the markets-leading learning services company. Our customized training solutions are efficiently tailored to meet organization and individual goals. With various training formats, technologies, and approaches, we recognize the need for custom solutions that fit your company's systems. Pan Learn is highly recognized for its global expertise on trainings to co-create significant business value.