Snap Decisions Can Sink Or Save A Project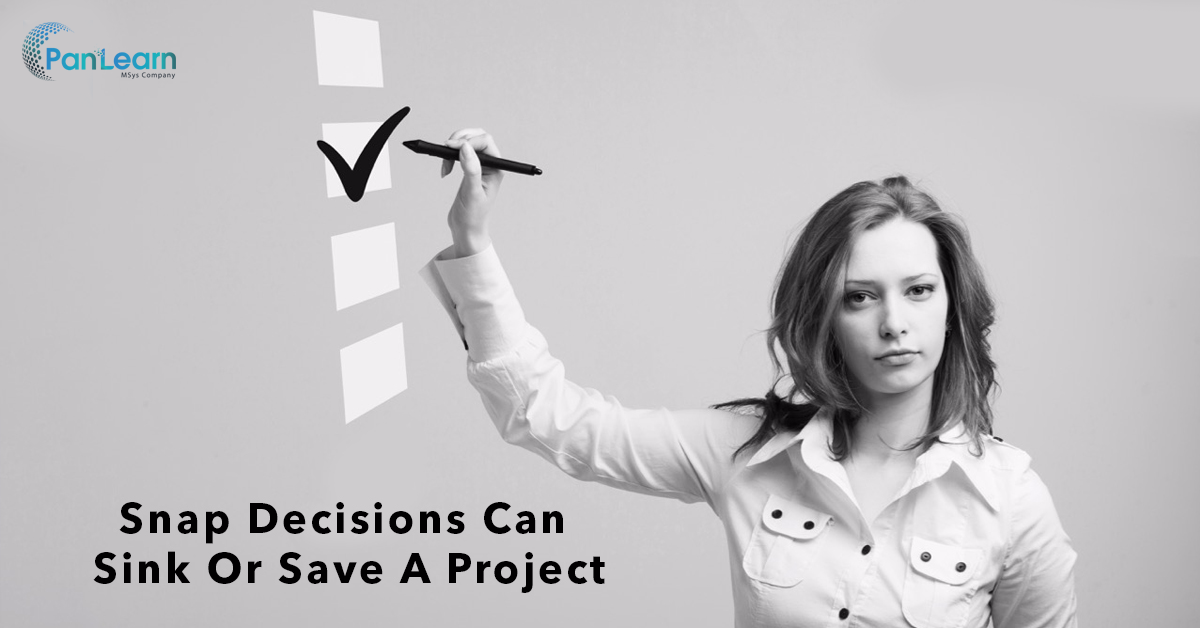 Nearly 4 in 10 managers say there's an expectation to finish projects quickly and stay agile, while 24 percent say they are making decisions about unfamiliar issues, according to a Forbes Insight global survey.
That combination signals growing pressure on project managers to make snap decisions that don't introduce new risks. Whether it's promptly managing a budget increase request or knowing when it's okay to contact the sponsor to resolve a crisis, making the right call is easier said than done. And unless there's a decision-making game plan in place that accounts for rapid-response scenarios, project teams might do more harm than good in crunch time.
After the commuter rail system in Washington, D.C., USA was shut down last year for a one-day emergency safety
inspection, project leaders had to think fast to determine how to make critical improvements while mitigating the impact on the nearly 650,000 riders counting on the service each weekday. Rather than hit pause to make sure they had the most efficient solution, Metrorail project leaders chose to rush into a yearlong repair program without collecting adequate data or reviewing project alternatives, according to a U.S. government audit. In its haste, the organization missed an opportunity to build a project plan that ultimately would have saved more time and money on the repairs—and caused fewer disruptions for commuters, the audit said.
"Project leaders need to make carefully weighed, timely decisions—not give in to rash reactions or get caught up in analysis paralysis," says Michael Uhl, PMP, PgMP, program manager, Leidos, Raleigh-Durham, North Carolina, USA. "If project managers get the right systems in place now, they'll be able to make faster, better decisions when that snap judgment is needed."
Suggested Read: Project Management Leadership: Insights for Shared Project Success
It starts with having a precise plan of action in place. Without one, project managers will be too tempted to automatically run with the first solution that comes to mind rather than make sure they've identified the root cause of the problem, says Riaan Husselmann, PMP, project management office (PMO) director, NSW Electoral Commission, Sydney, Australia. He benefited from this approach recently while working in the United Kingdom on a global tech deployment project to distribute new smartphones.
Nearly 4 in 10 managers say there's an expectation to finish projects quickly and stay agile, while 24 percent say they are making decisions about unfamiliar issues.
Source: Forbes Insight global survey
The problem? Long lines were creating overcrowding and distribution delays. A few team members impulsively suggested devoting more resources to handle the crowd. But Mr. Husselmann pushed his team to dig deeper. Within 10 minutes, Mr. Husselmann and the team had not only discovered the cause, but also ordered the right solution. The bottleneck: People in the line had to manually fill out a form that took too long. The snap decision: The team edited the form to ask fewer and less complex questions, which eliminated delays without additional project cost.
"I was responsible for project delivery within my approved business case constraints, so the decision to change the form was within my remit, and I did not have to seek approval from others," Mr. Husselmann says. "In contrast, if the root cause indicated that we needed to bring on additional staff at further cost than what had been budgeted, it would have warranted a discussion with the sponsor—and approval for further funding."
Having a clear pecking order also helps project teams make the right snap decisions. If project or program managers wait until there's a problem to figure out who can authorize a decision, they've already waited way too long, says Everaldo de Souza Alves Jr., PMP, PgMP, Latin America business PMO manager, Equifax, Santiago, Chile. "Especially in a matrix organization, it can be murky whether the authority lies with the business or the financial area," he says. "But when something unexpected happens and you need to make a decision fast, that lack of clarity can really slow down the decision-making process."
Mr. Alves works regularly on merger and acquisition projects, which are known for generating unexpected changes that require swift decisions. Shortly after Mr. Alves' team had a kickoff meeting last year to develop an integration plan for a company that Equifax had recently acquired, the project team spent several days working through a clear structure for decision making, including identifying the necessary stakeholders from Equifax and the acquired company.
"Clarifying the governance upfront took time, but it meant that during the project, any time there was an unexpected change in scope or budget or a problem that required discussion and decision, I knew what to take to the board or the steering committee and how to get approvals without delay," he says.
Mapping out everyone's role in the decision-making process also can illuminate the boundaries of authority—and the role project managers are expected to play, Mr. Husselmann says. Conversations with the project sponsor and PMO should be frank and specific, he suggests. For instance, what amount of contingencies, if any, can the project manager authorize use for? How much control does the project manager have over team members' schedules—and overtime requests? What tasks and activities specifically fall under the project manager's remit, and which fall elsewhere?
"You're seeking clarity, clarity, clarity—of your role, your remit and your authority," he says. "Everyone within the project becomes better decision makers when they understand their roles, authority levels and their purpose in achieving required outcomes."
That clarity should also extend to the project sponsor, who will be a key player when decision making needs to happen in a crunch, says Mr. Husselmann. The problem is that "quite frequently, project managers haven't established ahead of time what they need from the project sponsor or reinforced what that role involves," he says. That can mean a project professional struggles—for days or even weeks—to get on a project sponsor's calendar when a decision needs to be made quickly.
To safeguard the project from a perilous decision delay, project managers must proactively set expectations for the sponsor from the project's onset. Mr. Husselmann makes it a habit to always ask for the sponsor's phone number at an early meeting, then makes it clear that he will call if he needs to reach the sponsor for a pressing decision.
"Building a close relationship through productive and regular contact will help establish this rhythm and trust," he says. "Project sponsors rarely receive training on how to be a sponsor, and they often don't know what they need to do."
Also Read: Organizational Agility Drives Project and Program Success
BIRD'S-EYE VIEW
Project managers must comprehend how their project fits into the larger program or portfolio as well as the organizational strategy if they want to make strong decisions. That's true whether they have one minute to make a decision or one month, says Mr. Husselmann.
The last program Mr. Husselmann managed, which involved a large recovery effort that cut across seven organizations, had more than 300 team members attached to several projects. Though decisions often happened on a granular level—say, a budget increase for one phase of a particular project—he was careful to keep the entire program in mind. That meant staying abreast of the larger strategy before any need for a quick decision was even on the horizon.
Escalating Circumstances
Snap actions sometimes require project managers to short-circuit the decision-making process. Here's how organizations can develop an effective project escalation matrix that's documented in the project plan, according to Riaan Husselmann, PMP, PMO director, NSW Electoral Commission, Sydney, Australia.
1 Don't cry wolf: Set a clear threshold so everyone understands when something needs to be brought to the attention of the team lead, project manager, project management office or project sponsor. Project managers who escalate every problem risk having their pleas ignored during critical moments.
2 Onboard everyone: Make sure escalation plans are integrated explicitly into onboarding and training to provide insights into the organization and culture. Over time, new hires will more quickly develop muscle memory on what needs escalation.
3 Review and recalibrate: Regular conversations with the team will reveal subtleties or challenges that require early intervention so they don't become major issues. Keeping an eye on which parts of the escalation plan are rarely followed makes it easier to craft a solution that garners strong buy-in from all stakeholders.
"That enabled me to understand the impact this decision might have on every other part of the program and its required outcome—to make faster, better decisions," he says.
Certain communication practices can help project professionals in the trenches maintain a steady bird's-eye view, too, Mr. Husselmann says. Project managers and team members should share regular updates with people working on other parts of the program or portfolio, as well as in face-to-face forums bringing the entire team together. This communication structure ensures that when decision time hits, project managers already have an ongoing understanding of the bigger picture.
"The biggest risk you run with any project is inadvertently creating silos that make it impossible to make informed decisions," he says. "An effective forum doesn't have to be long or complicated: People take turns talking about what they're doing, how things are going and how that fits into the organizational strategy. But clear rules need to be established so these forums don't become a talkfest."
To fully weigh possible decisions, Mr. Husselmann stresses that project managers must strengthen their business acumen and stay abreast of the competitive landscape and applicable market trends.
"There's no point in having a perfect operation if the patient is dead, and that's just as true with projects," he says. "For project managers to make swift and smart decisions, they need to know the environment they're delivering into and working in. At the end of the day, any project decision has to deliver value to the business."
You can attend our Online Certified Associate In Project Managemen facilitated by our trainers who have more than 15+ yrs. of training and industry experience.
Panlearn is the markets-leading learning services company. Our customized training solutions are efficiently tailored to meet organization and individual goals. With various training formats, technologies, and approaches, we recognize the need for custom solutions that fit your company's systems. Panlearn is highly recognized for its global expertise on trainings to co-create significant business value.